WHETHER it is advertising the latest gadgets, announcing an upcoming event, or spreading festive messages, banners and bunting are an almost universal part of life in Malaysia, visible almost everywhere these days.
This is, perhaps, to be expected since, in business, spreading information as quickly and cheaply as possible is key to success. And what better way to do so than with an eye-catching banner?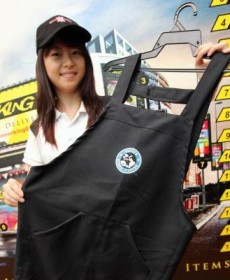 Multi-tasking: Banner King also prints logos for T-shirts and uniforms.
It is partly because of this that the banner industry is thriving, with printing companies mushrooming and customers spoilt for choice due to the myriad cost-effective advertising options open to them.
According to Jordan Print Sdn Bhd founder and CEO Jordan Ng, the mark of a successful printing company is its ability to add value for its customers. Jordan Print markets its services under the Banner King Marketing moniker.
"When customers come to me, I want to give them something special," Ng said.
"I don't just give them what they want. I give them my professional views and advice from my designers. One of our slogans is 'You Order, We Deliver'. Whatever we promise you, we will submit it on time," he added.
Banner King, one of the most prominent printing companies in the Klang Valley, has certainly come a long way. Rising from a one-man show when it was established around 2005, the company has since expanded into a 30-man operation with branches in various parts of Klang, Shah Alam, Puchong, Petaling Jaya, Sri Kembangan and Setapak.
Apart from banners and bunting, Banner King also provides many other products, including billboards, signboards, backdrops, wallpaper and lightbox faces. They also have an online service, where customers can upload their banner designs for BannerKing to produce.
According to Ng, Banner King's seven branches sell a total of around 3,000 banners every week, with the most popular sizes being 4 by 20 feet for banners, and 2 by 6 feet for bunting.
Ng said his banners are mostly in demand for product launches, openings and open-day events, adding that he can print anything his customer wants on a banner, except insulting or offensive messages.
Asked about the most unusual banner he had ever created, Ng laughed as he recalled the time he was asked to make a romantic banner to be flown from a helicopter.
"One guy wanted to propose to his girlfriend, so he asked us to write his proposal on a 20 by 40 foot banner," Ng said, "We did it within a day, and sent it to the helicopter company. They hung it on their helicopter and flew it across the sky for one or two hours."
Ng is constantly updating the services he provides and is currently expanding into advertising with LED signs, which are more energy efficient and easier to maintain than the usual neon advertising signs.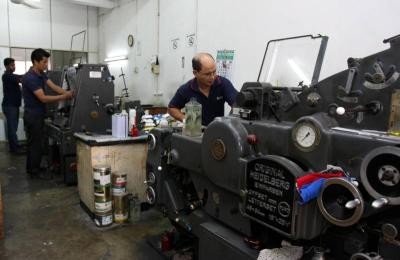 Hard at work: Gillin Printers prints about 200 to 300 banners a month.
Ng revealed that BannerKing uses about 20 printing machines, with more than 10 machines in their Klang headquarters alone.
Major expenses include solvent ink, which costs more than RM100,000 a month, as well as tarpaulin (the material used to make the banners) which costs them an additional RM100,000 monthly as some of it has to be imported from China and South Korea.
Asked about his future plans, the ambitious Ng said he hopes to one day have a Banner King outlet in every town in the Klang Valley. He added that he hopes to take his business nationwide and then beyond Malaysia, perhaps beginning with Indonesia.
Meanwhile, Gillin Printers Sdn Bhd director Ian Jonathan Lewis said that banner and bunting printing was still a necessity despite the rise of the Internet and online advertising.
"For many more years, people are still going to need print advertising. Digital advertising is considered relatively expensive, and printing is, for now, the most cost-effective way to get your message across," he said.
A family business, Brickfields-based Gillin Printers was founded by Ian's father Gilbert Lewis and his wife Linda about 25 years ago. The company has a staff of 20, and prints an average of 200 to 300 banners and bunting every month, with their main clients being bookstores and event companies.
They also print flyers, brochures, letterheads, books and various other products related to paper and cards.
According to Gilbert, who is still a director in Gillin, banners were far more difficult to make when he first started the business as they were made from cloth instead of tarpaulin, and had to be made by hand.
"We used a method called screen printing. We had to cut out the words on bromide paper by hand, and transfer it onto the cloth using a silk screen with netting. It would take hours to make a banner, unlike now, when they can be made by machines in minutes," he explained.
Ian added that the main challenge of the modern printing industry was its competitiveness, and stressed the importance of customer satisfaction.
"A lot of places promise a lot of things, but never deliver. It is important to keep the customer happy. Here, we give proper prices and service our customers well.
"We give them everything they need. Even if they come to us for something we don't do, like make plaques, we outsource the job to someone who can," Ian said.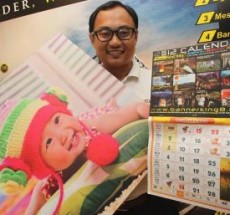 Plenty of choice: Under Ng's leadership, Banner King has diversified and now offers various types of printing services.
He added that Gillin needs to make about RM200,000 a month in revenue to cover all its overheads, including building upkeep and payroll.
Event company Missing Link Resources (M) Sdn Bhd director B. Ronald Shanker said that when deciding which printing company to use, one factor he takes into consideration is their ability to work on short notice.
"Sometimes, our clients give us instructions very late. We need people who can immediately print on short notice. This is how we choose our printers. Sometimes, I'll need to put up banners tomorrow, and can only get approval tonight. In the event line, time is critical," he said.
Ronald said that depending on the size of the event, his company usually spends from RM5,000 to RM50,000 on banners and bunting from Gillin Printers every month.
Additionally, they spend about RM6,000 on new bunting stands every six months.
"Bunting is very important for communication. Most people look at bunting and see it as nothing special, but to me it is an integral part of an event. It can serve different purposes.
"If it is a carnival, it will be used to convey information like the location and date of the event. If it is a product launch, it will carry information on the product. If it is a roadshow, it is all about branding.
"It is all up to how you use the bunting to maximise the success of the event," Roland said.